There isn't only work in our lives!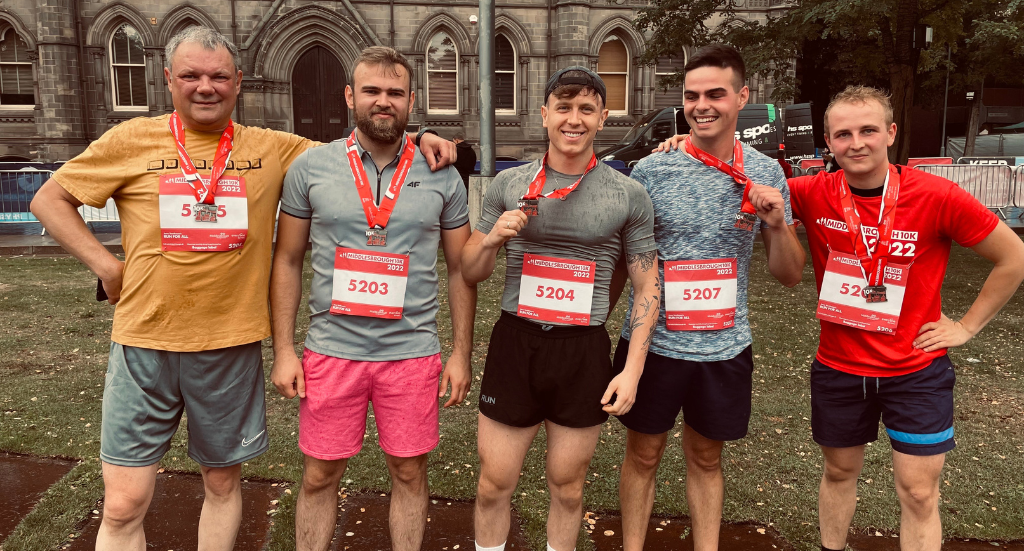 Our employees, who are on commissioning in the UK, recently took part in a charity run MIDDLESBROUGH 10K. We are very glad that our employees also after work time, integrate and spend time together.
Our leading value is cooperation. That's why we do our best for our employees to be pleased, create a great team and spend their time on the commissioning in the best way.
One more time we congratulate our employees ending the run and we have to say that we are happy to have you in our company!
Logimat Trade Fair – memories
It has been some time since the LogiMAT 2022 trade fair. The trade fair brought us many contacts and was an important part of our business development. We look back on this time with pleasure, so below are some memories from our visit this year.
There is still plenty of time left before next year's Stuttgart trade fair, but we are already sure we'll be there. We look forward to seeing you at our stand in April 2023!
We can integrate every SCADA system in your company!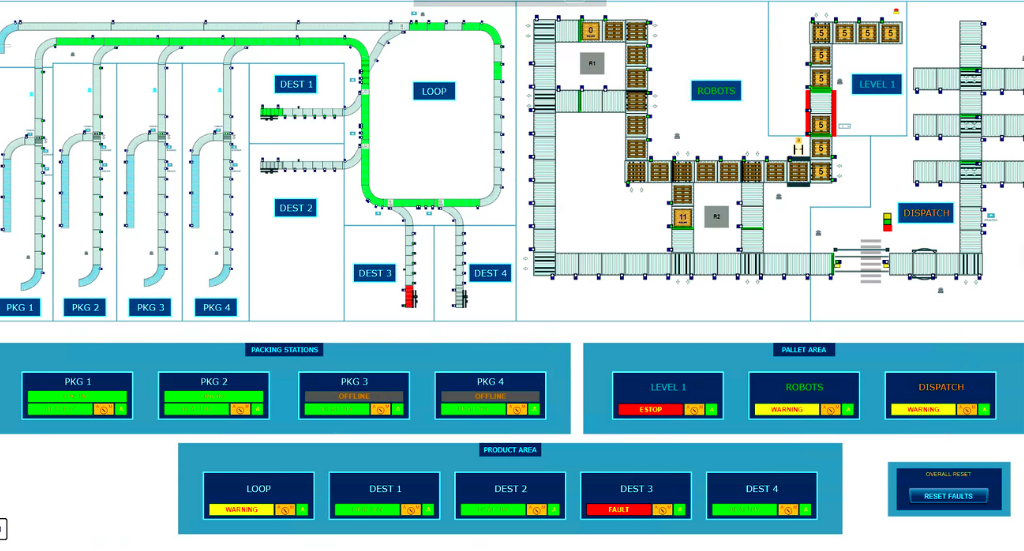 Are you concerned about what is happening in your production? Do you need more information in real time? Do you want better management and control?
We can integrate every SCADA system in your company!
We have been implementing SCADA systems since 2010 for the world's largest companies based on Atvise SCADA, Ignition, WinCC and others.
What can you achieve thanks to it?
assistance in diagnosing various types of failures,
real-time information about abnormalities and alarms,
status archive of all measuring and working devices,
the possibility of creating process-related reports,
improvement and increase of production efficiency,
remote monitoring of the process.
Thanks to the application of the SCADA system together with our company – Stevia Automation, you can be sure that your project will be executed at the highest level.
Write to us and find out how we can improve the control of your system.
We've successfully finished our part in new warehouse project for Amazon in Oviedo lately. As a part of a greater team we've programmed an advanced sort control system.
It included a product transport and sorting system. The last tests in our areas were successfully completed, in which only a few of our engineers shown in the photo participated. The rest of our Poznań team is already working on another project in the UK.
We're proud that we can take part in such demanding and responsible projects.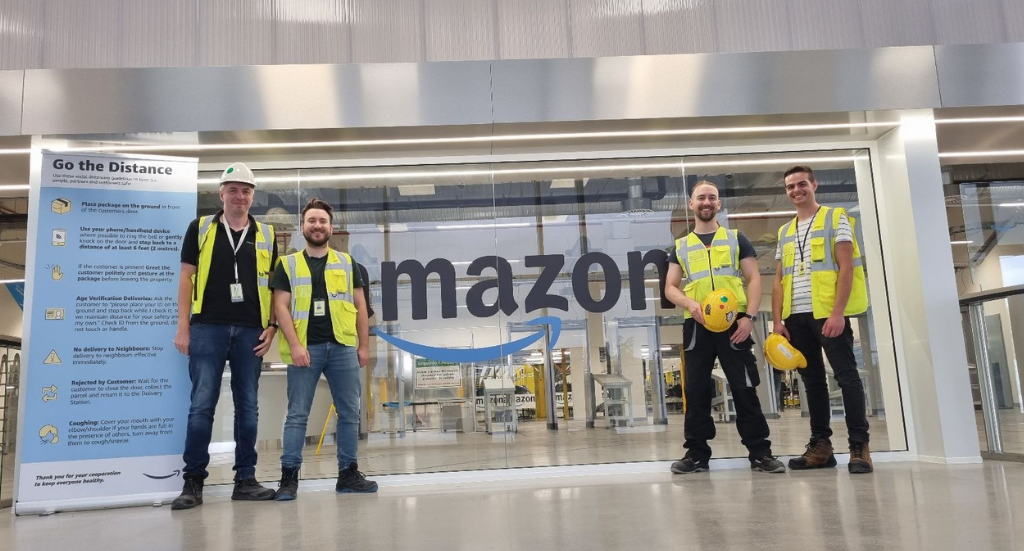 Decide to get virtual commisiong by Emulate 3D!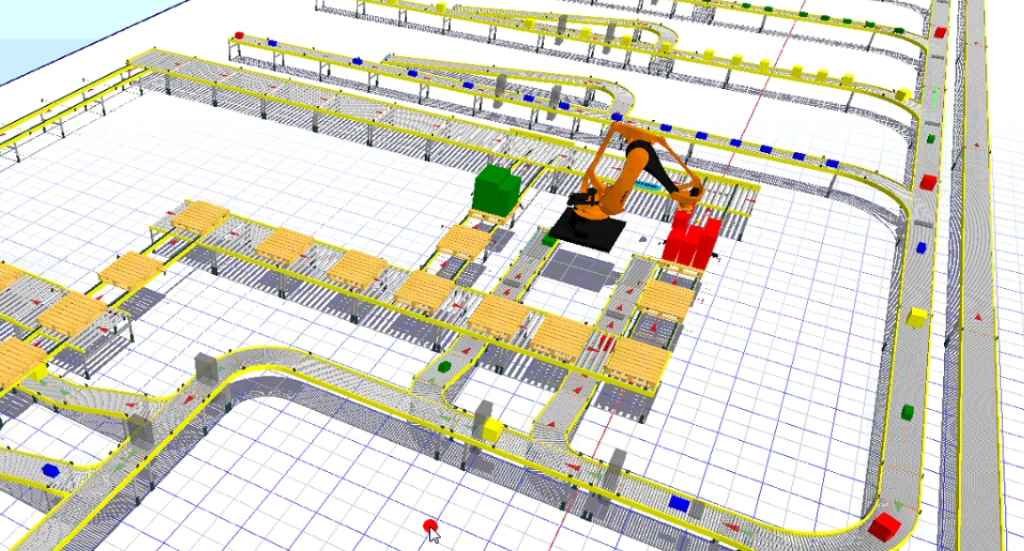 What can be done to increase confidence that the project will be completed on time and to minimise the number of problems during commissioning on site?
In our opinion, it's worth to do virtual commissioning in Emulate3D!
What Emulate3D brings to the project:
Significantly shortens the time of system commissioning,
Reduces project costs thanks to the verification of design at the preliminary stage,
Provides the ability to test the system expansion without interfering with the already existing system,
Enables the verification of design assumptions and the selection of optimal system parameters before the start of implementation.
We prepare a 3D model for every system we make, so that we can be sure of a successful implementation before the physical start-up. We have seen and experienced that this type of approach increases the efficiency of the work and shortens the time of the project.
Creating and programming the control system, we can check our work and the customer can be sure that the project has been done correctly and flawlessly.
Welcome Robert to our team!
We're glad that ambitious and reliable PLC programmer has been working for us since the beginning of July.
What Robert likes the most about programming is fact that when you write a program, you create something that will have a specific application.
In Robert's opinion PLC programming is very cool because the code line effects are very real and you can see if the machine or the entire production line is working as planned.
We wish Robert effective development in Stevia and many projects completed successfully with us 🙂
Factory Acceptance Test meeting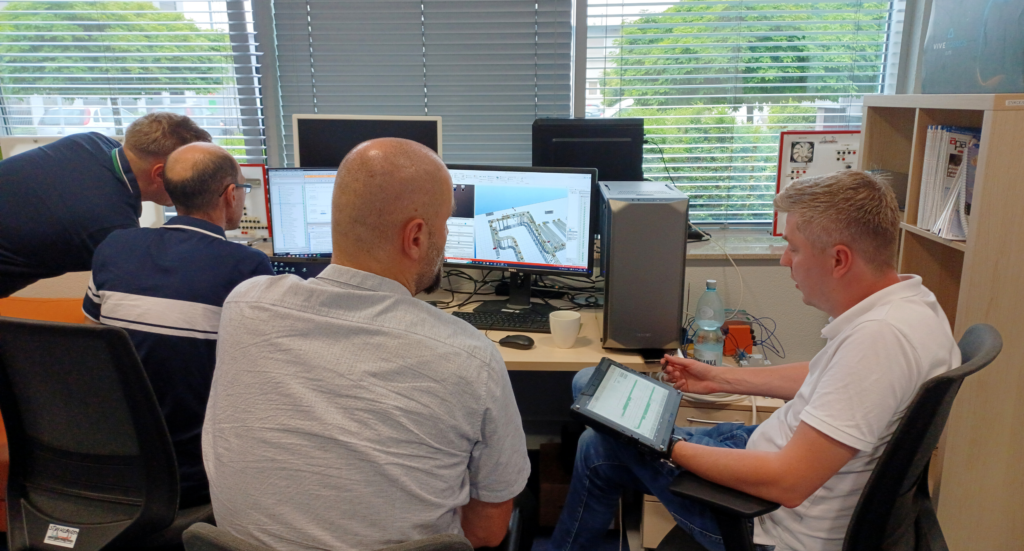 Last Tuesday we organized FAT meeting and presented our work including comprehensive control and emulation of intralogistics system.
Thanks to emulation we could show the capacity and test the system without being on-site. Created digital twin was enough to do it.
Everything went good, so we are well prepared for commissioning on-site.
Loading of electrical equipment for the commissioning in Germany
On-site realization of our another big project has begun.
According to the project schedule we're going to the facility in Germany to start electrical installation assembling.
Every time when we transfer our work from the office to on-site implementation, we feel excited and satisfied.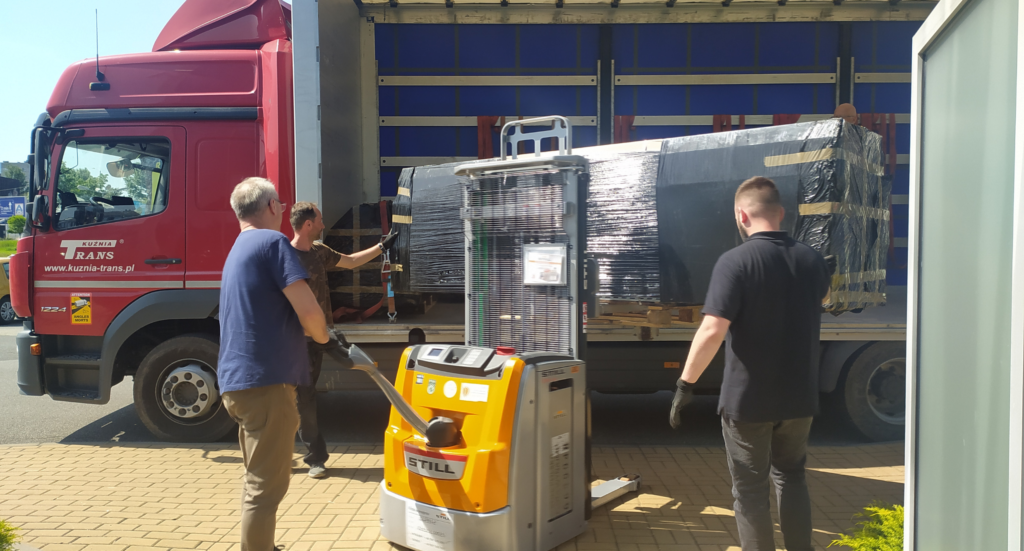 LogiMat trade show in Stuttgart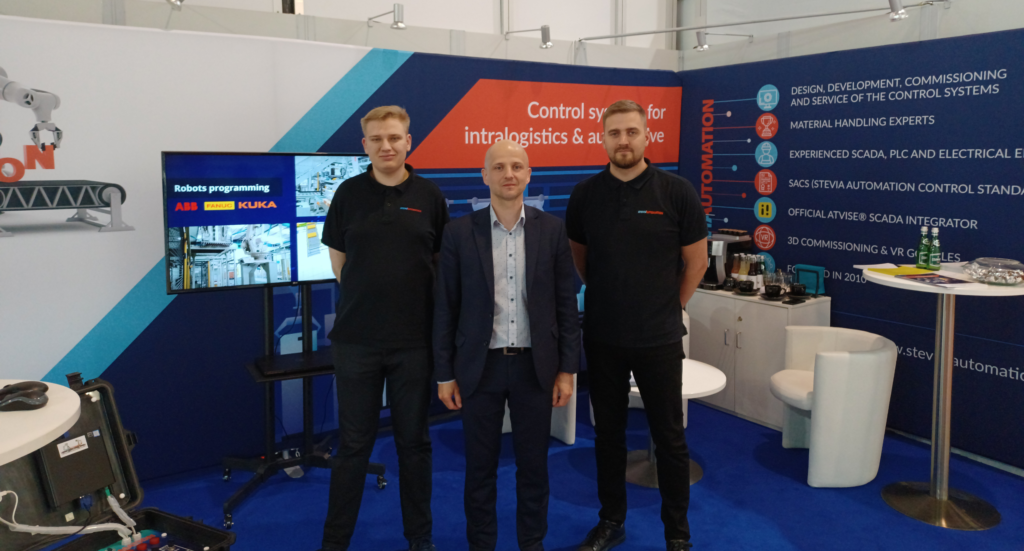 LogiMAT in Stuttgart – the biggest intralogistics trade show, is coming up in May.
The event gives a unique opportunity to all major solutions suppliers working in industrial automation specialized in intralogistics to gather in one place and showcase their capabilities.
We are proud to inform you that Stevia Automation will be taking part in the event so if you wish to speak with us or learn more about our solutions, we will be more than happy to chat with you if you happen to be there. Why did they decide to work with us?
Keep following our social media channels and stay tuned for more news from Stevia Automation.
It has been a while since our latest post but we're back and we'd like to share with you some news about our company!
First of all we would like to share with you some great news!
Our office in Katowice is starting a new challenging project. So far we can reveal that it is a leader of consumer electronics distribution in Europe.
Why did they decide to work with us?
Because of our experience. So far we've delivered many control systems for various warehouses throughout Europe and offer our own fast and proven programming standard. Our work is always done by the best specialists and we use the newest solutions. The extensive experience with the web-based Atvise SCADA system was also a big advantage.
Check it here: Atvise SCADA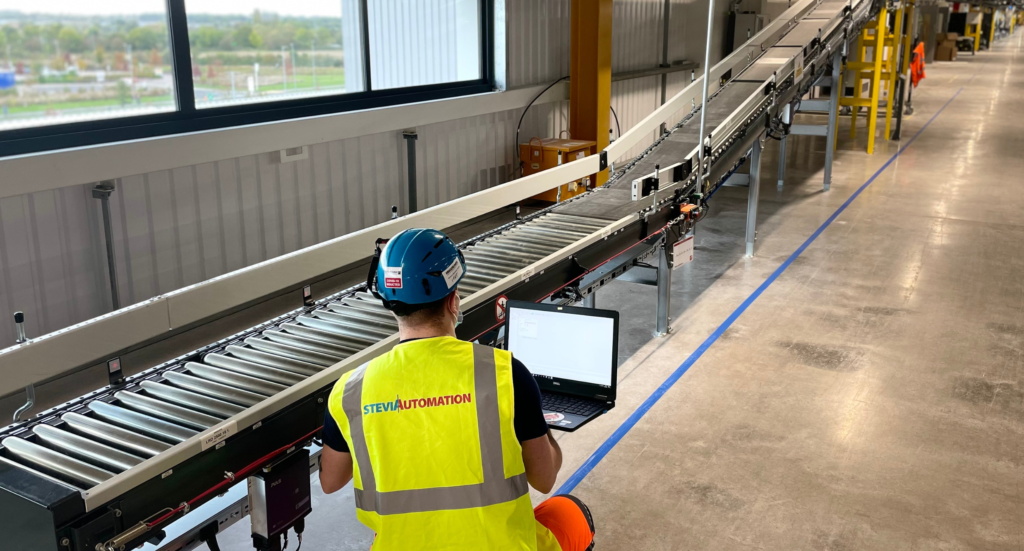 DemoSim – start new batch
Welcome to the next episode in our video series dedicated to our mobile presentation rig with the particular emphasis on atvise® scada system. Today we want to show you the sequence of starting a production batch and the short overview of the palletizing and wrapping areas.
Stevia Automation is an official integrator of Atvise® Scada. Should you have any questions in relation to Atvise® Scada or any other aspect of the presentation please do not hesitate to contact us.
DemoSim – service control
As mentioned in our previous post, we keep on improving our mobile presentation rig. In today's video we want to show you our wireless approach to the service control of the automated system via GETAC tablet and Atvise® Scada launched from the Chrome browser.
Stevia Automation is an official integrator of Atvise® Scada. Should you have any questions in relation to Atvise® Scada or any other aspect of the presentation please do not hesitate to contact us.
DemoSim – general system overview
We are working at our recently upgraded mobile presentation rig. Previous version was build in 2019 and had different simulation approach. All system behavior was simulated in the PLC (transfer times, sensor activations, jams etc.) whereas new version uses Emulate 3D software for this purpose.
Stevia Automation is an official integrator of atvise® scada, therefore the system is controlled by this very software. Mobile presentation rig is equipped with some physical gear (key switches, buttons and lamps) to provide some basic interaction but the main purpose of the the rig was to present the capabilities of WEB SCADA, especially its wireless implementation on GETAC tablets. Both atvise® scada (development and runtime) and OPC server handling communication between PLC and SCADA are installed on small PC within the rig.
This is our first video dedicated to mobile atvise® scada presentation rig. Thanks for watching!
Should you have any questions do not hesitate to contact us.
Small conveyor system with Fanuc Robot and Echo Dot 3
We are in preparation to LogiMAT 2022, where we will show a small conveyor system created on 3D Printer. This installation will be also equipped with Fanuc Robot and Echo Dot 3 Voice control system.
Each visitor will have the opportunity to win a gadget on our stand, if he only knows the answer for the question which will be displayed on HMI screen and read by Echo device. The robot will then place the gadget on the first conveyor. The Contestant has to select the correct answer until the system transports the item to the penultimate conveyor. When the answer is correct the gadget will be transported to the last conveyor otherwise the robot will bring it back to the store place.
When no one is taking part in our game, the robot will play alone. What exactly will he do? Let it be a secret.
Prefabrication of control cabinets – electrical tests
Yet another four control cabinets will leave our workshop in the next couple of days. Although the project was demanding (delivering dates), we managed to complete it on time! Today we took the last measurements and did final electrical tests. We must make sure that the cabinets will work reliably for many years
Internal transport system tests in Emulate3D
One of the first projects where we used the Emulate3D environment to test our Stevia's PLC/SCADA software Standard was a project consisting of transporting trays via a high-speed three-level lift using product tracking to four destinations.
The commissioned system works flawlessly and the tests performed reduced the commissioning of four identical internal transport lines to two weeks.
Design and building of control cabinets
In addition to PLC programming, our Katowice-based team also prefabricates control cabinets, switchgears, control panels, junction boxes and inverter cabinets based on either documentation designed by our engineers or received directly from the customer.
For better price accuracy tenders are preceded by cost estimation of preliminary material lists.
Thanks to the well-established relationship with our suppliers we can offer attractive prices for components and devices used in control cabinet construction.
Check our offer: Control cabinets
Voice control into our material handling demo system
Using the time between projects, we decided to implement voice control into our material handling demo system consisting of a FANUC industrial robot and conveyor system model. Voice control was based on Amazon's Echo Dot 3 speaker. This, one of the most popular Amazon products, is not only a radio device. It is also a virtual intelligent assistant Alexa with many options which can be used in different ways. In our application we have connected Echo Dot 3 speaker with the Raspberry Pi using NodeRed software and have established Ethernet communication between Raspberry Pi and the Robot controller.
Below find a short video showing the first successful attempts of voice control of a robot program.
We are now working on a second step which is a voice controlled conveyor system with command confirmation feedback to Echo Dot 3 speaker. We will present the results soon.
LogiMAT – International Trade Fair for Intralogistics Solutions
Even though there is still quite a lot of time left, we would like to invite you now to visit our stand at the LogiMAT Stuttgart, the International Trade Show for Intralogistics Solutions and Process Management in March next year.
At the fair we are planning to present our offer covering complex automation and robotization services of material handling in warehouses.
In addition, each visitor to our stand will have a unique opportunity to enter the virtual factory thanks to VR technology used with the Emulate3D software.
Finally, we are going to show you a miniature transportation conveyor line with the Fanuc robot, which will deliver our gifts for everyone who takes part in a simple quiz.
A production line in a virtual environment? No problem! Prior to on-site commissioning our projects are thoroughly tested using Emulate3D (Industry leading emulation software).
Thanks to our own scripts, we can achieve the exact behaviour of any system element in a virtual environment, allowing us to build and properly test offline the entire, complex material handling systems.
Moreover, Emulate3D integrates with virtual reality glasses which allows us to immerse inside the virtual production hall with the tested system.
Detailed system test reports are coming soon!