Atvise® PORTAL enables secure access to decentralized data of distributed plants and processes via the Internet (private cloud).
Atvise® Portal enables the flexible creation of process diagrams and monitoring panels (dashboard), monitoring of alarms and events as well as user management and their rights.
Visualizations – as with all atvise® products – are based solely on web technologies (Pure Web).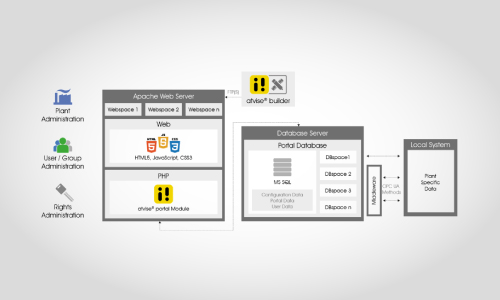 Monitor and control
Many industrial plants, machine builders or system suppliers have different types of production and process data available through various sources or consolidated in the database.
Depending on individual needs, such data can be provided by the atvise® portal to various entities (companies and/or clients) in a clear and consistent form.
Depending on the rights they have, users can not only monitor data but also control it (entering set points, confirming alarms, etc.)
Add Revenues by Making Data Available